MND, world No. 1 in the prevention and control of avalanche risks through its MND SAFETY brand, continues to support mountain areas before winter season begins, all over the world. In Europe and beyond, MND's patented technologies have once again been chosen by customers to protect their destinations from avalanche risk.
Only systems in the world that do not use any explosives, MND SAFETY solutions guarantee the safety of staff, infrastructures, skiers and mountain ecosystem in which they are installed.
Leading systems in France and Europe
La Plagne ski resort, part of Paradiski area, has chosen patented non-explosive technologies to prevent the avalanche risk on its site. For 3 years, MND will support the area with the installation of 18 GAZEX ® and 5 shelters / mini shelters to analyze and monitor in real time the area near the glacier zone to secure the "La Combe" piste on both sides. For winter 2021-2022, the first hurdle systems have been installed and are operational for the protection of the Hara Kiri piste at an altitude of more than 2,500m.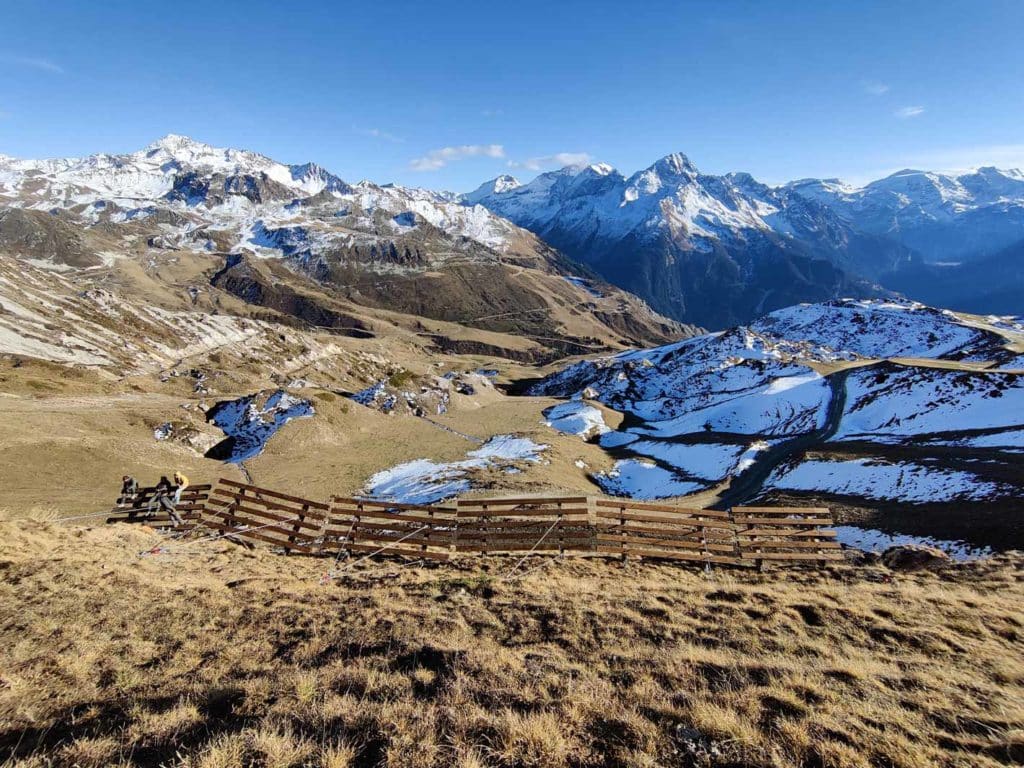 Hurdles system in La Plagne, France
In Europe, the famous Austrian ski resort of Sölden, where the ski world cup starts every winter, renews its trust with 2 additional Gazex® delivered and commissioned. Installed near a strategic area with two key infrastructures — the 007 Elements Spectre museum and a new mountain restaurant — Sölden has now 44 MND SAFETY systems over its domain.
Long-standing player in Italy, several long-time clients have chosen to expand and optimize their solutions of avalanche risk prevention systems. This is the case for 2 new GAZEX® at Skiarea Valchiavenna in Madesimo, equipped since 1999, and with 4 new fixed systems for the Promoturismo FVG client in Piancavallo on an area which already has 17 Gazex®, 6 shelters and 1 DaisyBell® since 2010. Because protecting people living near stations is also a major issue, the Aosta Valley region has chosen to replace the Gazex® system with a removable O'BellX® for the alpine village of Rhèmes Notre Dame.
French MND expertise is exported
In Japan for more than 20 years with the pioneering GAZEX® solution in Hakuba Cortina, MND is part of the continuity to modernize existing infrastructure while supporting the development of mountain sites. This winter, Lotte Araï will be the first resort in Asia to be equipped with a removable avalanche triggerring solution, MND SAFETY's most recent creation. MND will therefore replace 2 fixed solutions with 2 OBell'X® before optimizing 100% of the avalanche safety systems installed on this area.
Following safety contract in Gudauri ski resort in Georgia in 2020, MND teams finalized this winter the commissioning of 24 Gazex®, 10 Concept III shelters and mini-shelters and a full monitoring system, thus ensuring the prevention and safety of the largest resort in the Caucasus Mountains.
Beyond ski areas, continuity of access and road safety is provided as a preventive measure for many transport authorities in the United States. This is the case for California with the Department of Transportation (Caltrans), which MND has supported since 1991 with nearly 70 Gazex® solutions and in Colorado (CDOT) with 40 fixed and removable systems for the protection of the Loveland Pass located at an altitude of 3655m and the Eisenhower tunnel with a length of 97km.